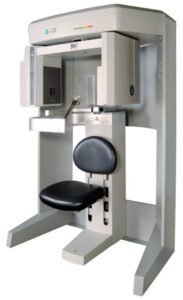 As technology continues to advance, the way we do certain things improves. One of those things is the way orthodontics is performed. The use of technology is helpful to all receiving treatment, as it makes the service faster and more accurate. At OMI Orthodontics, all of our offices (Fort Wayne, Auburn, Fishers) use the highest level of technology to give you a better experience. We have been trained on using the latest technology, and we want to assure you that you are in the best hands possible. Below we have listed some of the different technologies we use and their benefits. We invite you to keep reading to learn more about them.
SureSmile
SureSmile technology is the latest and most helpful technology in orthodontics. Using digital x-rays and 3D scans of your teeth, the orthodontist can create a virtual model of your mouth. Virtual models of your teeth allow the orthodontist to create more exact appliances for you. SureSmile technology comes with many different benefits. SureSmile will drastically cut down your treatment time with a more precise fit. You can see accurate results in less time than if you were not using SureSmile. SureSmile is up to 40% faster than traditional braces.
Other benefits of SureSmile include more exact results and minor discomfort. Because everything is made to fit only you, there should be little to no pain with the appliances. Your results will be of higher quality and will last. There is less of a chance that the work performed will regress. SureSmile is a technology that you can trust to help improve your treatment process.
Orthodontics 3D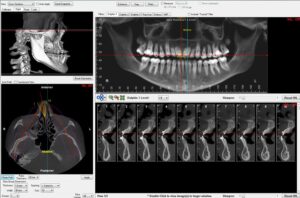 Orthodontics 3D uses digital CBCT scan and images to create a 3D virtual model of your mouth. A 3D virtual model allows for better planning when aligning your teeth. These images allow the orthodontist to see your teeth from every angle: The root, the back of your teeth, future teeth coming into your mouth, bone, etc. OMI Orthodontics was one of the first orthodontists to use this technology, which led to being SureSmile certified. This technology makes a huge difference. The orthodontist can plan different treatments and see what appliances are needed with these 3D images. That means there will be no guessing when it comes to your actual treatment. The measurements will be exact and help your dream smile.
TruDenta
If you suffer from migraines, headaches, TMD, and any chronic pain, then you have come to the right place! We use TruDenta technology to help treat our patients with orofacial disorders. With the help of 3D imaging, this technology will help the orthodontist know how to adjust and readjust your facial structure to help eliminate excessive migraines, headaches and help treat TMD. This technology has the potential to give you your life back. You will no longer have to take pain medications every day or worry about how you will get through the day. You will be pain-free and ready to take on any challenges that come your way. If you suffer from TMD or extreme headaches, please come into our office today to learn more about how TruDenta can help you. 
We use the most recent and highly advanced technology available here at OMI Orthodontics. We utilize SureSmile, Orthodontics 3D, and TruDenta at our office. These technologies help our patients gain state-of-the-art smiles that they will love and cherish for years to come. We want our patients to feel confident in themselves, and sometimes technology is the quickest way to achieve that. If you have any questions about the technology we use and how it can benefit you, we invite you to come into our office today! Don't be afraid to reach out!