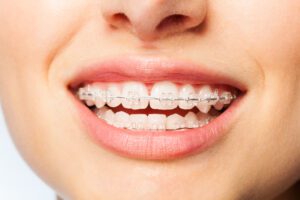 Here at OMI Orthodontics, we offer different orthodontic treatments for all ages. No matter the current stage of your teeth, there is undoubtedly something for everyone looking to improve their smile. Below we have listed the different types of orthodontic braces that we offer. We provide all of these services at each of our various offices. We invite you to continue reading to learn more about each type of braces and how they could benefit you.
Traditional Braces
Traditional metal braces consist of metal brackets that are cemented onto your teeth. These brackets then hold an archwire to push and pull your teeth into the desired position. Braces are one of the most well-known orthodontic treatments. It is affordable to almost everyone, and the results are lasting. The results may be hard to notice at first because the movement of your teeth will be so gradual, but over time you will see the difference.
Throughout this treatment process, you will need to visit our office to receive periodic adjustments to your braces. As your teeth move into a straighter position, the wire will become slack. If it is not tightened, the braces will not do their job.
Benefits of Traditional Braces: 
Traditional metal braces are strong and durable.

Metal braces fix more than just alignment issues. 

Metal braces are cemented onto the enamel of your tooth, making it difficult to break them.
Ceramic Braces
Traditional and ceramic braces generally follow the same procedure. They both consist of brackets and wires that must be adjusted over time to ensure proper alignment. Ceramic braces, however, are made out of ceramic. The brackets are white, meaning your braces will be less noticeable to those around you. Ceramic braces are more expensive than traditional ones, but ceramic braces could be perfect for those looking for a less noticeable approach to braces. 
Benefits of Ceramic Braces: 
With no metal, ceramic braces are more comfortable than traditional braces. 

Ceramic braces are difficult to notice.

Ceramic braces are stain-resistant and made to last over time.
Clear Aligners
Clear aligners are one of the least invasive ways to straighten your teeth. The aligners are custom made to fit your mouth, and with the help of digital x-rays, they work to push and pull your teeth into a straightened position. This process is quick, especially if your misalignment is mild, to start. The aligners are clear, making it virtually impossible for the people around you to tell that you have braces. The aligners are completely comfortable and do the same work as traditional braces. 
Benefits of Clear Aligners:
You can still practice good oral hygiene, as the aligners are removable.

Aligners are lightweight and transparent. A lightweight aligner means you will be comfortable, and no one will notice your braces. 

They do not need to be adjusted over time. You need quick checkups with the orthodontist to ensure good progress.
Lingual Braces
Lingual braces consist of metal brackets and wires; however, they are cemented onto the backside of your teeth. This type of braces is not just for anyone. For those who have extreme overbites, this could be harmful. Lingual braces move your teeth just as traditional braces would, but as they are on the backside of your teeth, they are entirely invisible. No one will even know that you have braces. 
Benefits of Lingual Braces: 
They are invisible. 

They correct the majority of problems.

They have increased comfort and have maximized efficiency. 
If you are in Indiana and are looking for an orthodontist, one of our orthodontic offices is here to assist you. We are excited to offer all braces to decide what will work best for you. Come in today for a consultation to learn what type of braces will give you the most benefits!